The world may seem topsy turvy at times, but the St. Lawrence River's serenity, peacefulness and beauty are constant. Come to The River - escape into its world of tranquility. You need the rest and its way of getting perspectives in order.

Duck Cove Cottages can be found by land or by water.

We are nestled at the end of Duck Cove Rd. off Rt. 12 or by the way of the main shipping seaway channel into upper Chippewa Bay. Located in a prime position to offer both a wealth of outdoor adventures and still be close to all the attractions and restaurants in Alexandria Bay, Clayton, Kingston, Brockville, and Gananoque, Ontario, Canada. Our area boasts of peaceful boating set amidst Singer Castle and two beautiful historic lighthouses. As your day closes come escape back to the harmony of Duck Cove on the St. Lawrence River.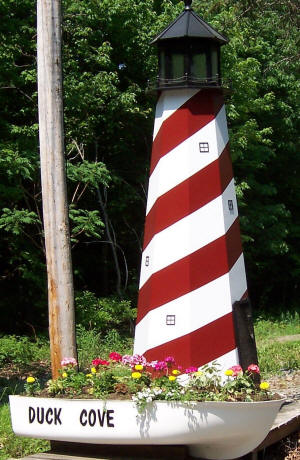 Come and spend a week or two and see why our part of the world is called "God's Country."
 
Being on The River calms the mind and settles the soul.
"Not Just A River, But A State of Mind."

The River is beckoning you............. 
Please email us for further information: DuckCoveCottages@gmail.com